Quality Policy
On this assumption, Ramiro is committed to:
• Create Partnerships with customers to know and understand their needs and expectations to ensure their satisfaction;
• Drive the business in a sustainable way through management practices which promote the efficiency and effectiveness of activities and processes, through proper planning, objective definition and monitoring its implementation, identification of areas for improvement, thus ensuring the efficient use of resources;
• Collaborate with suppliers to promote the continuous improvement of our products;
• Prevention, elimination or reduction of risks through the protection of facilities and equipment, and continuous improvement of working methods;
• Comply with our environmental and social responsibilities for sustainable global development.
Aware that the globalization of markets makes quality issues more pressing, Ramiro has made a continuous investment, focusing on continuous improvement.
The list of restricted substances, formulated from both the need for customers and international legislation, serves as basis for our products control. A decisive factor in the choice of suppliers is compliance with the limits of restricted substances. We offer a wide range of articles that meet the Reach standards and the Oeko-Tex Standard 100.
The company's commitment to quality led Ramiro to become a member of the LWG (Leather Working Group) in 2018.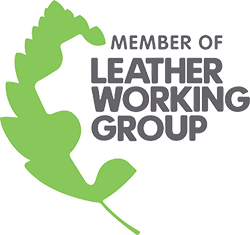 The objective of this group is to develop and maintain an environmental protection protocol that assesses the environmental management and compliance of leather, while promoting sustainable environmental and business practices.